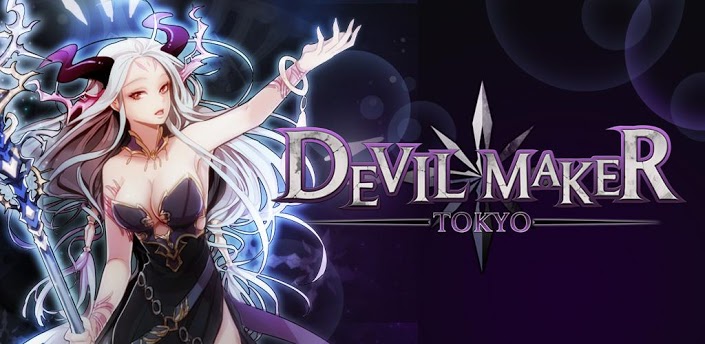 ==Welcome to Devil Maker Tokyo== all are welcome try to fill up the site 
Android Download - https://play.google.com/store/apps/details?id=com.palmple.glodmkr.google
Appstore Download - https://itunes.apple.com/us/app/devil-maker-tokyo/id659867068?mt=8
Devil Maker
Edit
Play a unique RPG card battle game unlike any that have come before! With exciting card battles, a strategic combat system, and outstanding card illustrations, you're sure to fall in love with Devil Maker: Tokyo!
Sometime in the not-too-distant future, eternal darkness has blanketed Tokyo, and devils from another dimension have taken over the streets. You play as a "contractor," someone who is able to form contracts with the devils of darkness to try to bring light back to the world. The problem is, your memories only go back 10 years. 
Who were you before then? With the help of the devil Yuki and your deck of fearsome devils, battle throughout Tokyo to try to unlock the keys to your past! Unofficial Facebook group http://www.facebook.com/groups/devilmakertokyo

Devil Maker: Tokyo http://www.palmple.com/dm/home
Facebook https://www.facebook.com/Palmple.global
Twitter https://twitter.com/Palmple_Global
YouTube http://www.youtube.com/user/PalmpleGlobal Blog http://www.DevilMakerTokyo.blogspot.com
Key Features
Over 500 fascinating devil cards
A new breed of TCG, Devil Maker: Tokyo is unlike any game of its genre
Battle devils throughout Tokyo in Explore mode
Discover your mysterious past in Story mode
Battle against your fellow contractors in the Arena
Strategically form your devil party
Upgrade devil cards by merging them with other devils, recontracting with current devils, or evolving your devils
Transfer skills from one card to another
Fight with your Friends against the Core of Darkness, the source of the devils' power
Play along to the game's fantastic original soundtrack
Much more! Watch out for Devil Maker: Tokyo to discover why it is far from your average card battle game!
YouTube Game Intro: http://www.youtube.com/watch?v=cWAjbySOHd8
Latest activity
Edit
Ad blocker interference detected!
Wikia is a free-to-use site that makes money from advertising. We have a modified experience for viewers using ad blockers

Wikia is not accessible if you've made further modifications. Remove the custom ad blocker rule(s) and the page will load as expected.