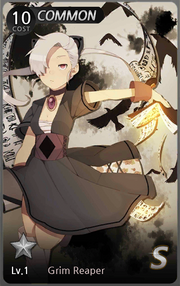 Illustrator g
"Your remaining life is written here. I'll be back for you, not under some contract like this but on my own business."
Information
Edit
Originated from the god of death. When a human shows up on a note that shows his lif span, the Grim Reaper takes the soul of the human to hell. She usually appears wearing a black hat and covered in black clothes.
Ad blocker interference detected!
Wikia is a free-to-use site that makes money from advertising. We have a modified experience for viewers using ad blockers

Wikia is not accessible if you've made further modifications. Remove the custom ad blocker rule(s) and the page will load as expected.